Utah Education Policy History (1997- 2015)
This policy history report summarizes the policies and programs established by the Utah Sate Board of Education between in a 15 year period (1997-2015). The report summarizes and reports bills in ten categories: Assessment and Accountability, Charter Schools, Curriculum, Educators, Funding Policies, Governance, New Programs, Pilot Programs, Parental Role, and Technology.
To download this report in PDF, please click here.
Research Brief: Chronic Absenteeism (2012)
This research brief focuses Chronic Absenteeism in Utah public schools. It reports:
The students who are most likely to be chronically absent
A demographic profile of chronically absent students
Patterns in chronic absenteeism over time
Relationships between chronic absenteeism and lower standardized test scores
Relationships between chronic absenteeism and dropping out
The extent to which grade point average (GPA) mediates the relationship between chronic absenteeism and dropping out.
To download this report in PDF, please click here.
Performance-based Compensation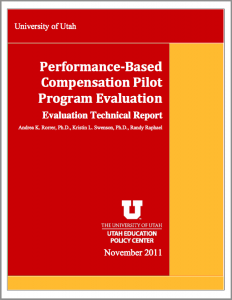 The UEPC evaluated the Performance-based Compensation Pilot Program. This program provided bonuses paid to teachers based on areas of student learning gains, instructional quality, and parent satisfaction.
The purpose of the evaluation was to assess the implementation of the program and the impact of the program on teachers and students.
The research found that:

The average bonus paid to teachers was $1,783 but only half of the teachers indicated that the reward was sufficient compensation for program participation,
About half of the teachers agreed that the program improved the learning experience for students.
The program had no significant impact on student standardized test scores.

This evaluation used mixed-methods including multi-level regression, interviews, surveys, and focus groups.
To download this report in PDF, please click here.
Charter School Study
In response to the Utah Legislature Executive Appropriations Committee Request for Proposal in 2006, the UEPC) conducted a study of charter schools in Utah to obtain information about the purpose, authorization, governance, and training associated with charter schools, as well as information about parents' decisions to enroll in or withdraw their students from charter schools.