Informed Decisions: Utah Educators Election Brief
The Kem C. Gardner Policy Institute convened focus groups to identify important issues in the 2016 election. Educators was identified as an important topic. The brief provides an analysis of the issues associated with educators in Utah. The brief was co-published in partnership with the Kem C. Gardner Policy Institute.
To download this brief, please click here.

Check out the article in the Deseret News.
At First Glance: Teachers in Utah
In collaboration with the Utah State Board of Education, the Utah Education Policy Center is exploring the teaching labor force in Utah through multiple data and research briefs. This first brief gives a general overview of teacher shortages from existing data.
To download this brief, please click here.
View the PowerPoint slides presented at the Joint Education Conference here.
Data-Driven Leadership
Vicki Park (San Jose State University) and Amanda Datnow (University of California, San Diego) summarize a decade of research on data-driven decision making in districts and schools. They introduce a framework that focuses on the people, policies, practices, and patterns (i.e., four Ps) within data-driven decision making.
To download this brief in PDF, please click here.
To download the summary in PDF, please click here.
Performance-based Compensation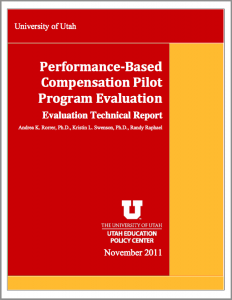 The UEPC evaluated the Performance-based Compensation Pilot Program. This program provided bonuses paid to teachers based on areas of student learning gains, instructional quality, and parent satisfaction.
The purpose of the evaluation was to assess the implementation of the program and the impact of the program on teachers and students.
The research found that:

The average bonus paid to teachers was $1,783 but only half of the teachers indicated that the reward was sufficient compensation for program participation,
About half of the teachers agreed that the program improved the learning experience for students.
The program had no significant impact on student standardized test scores.

This evaluation used mixed-methods including multi-level regression, interviews, surveys, and focus groups.
To download this report in PDF, please click here.
Online Educator Effectiveness and Stakeholder Input Surveys
The UEPC was awarded a contract to develop and conduct surveys to support the USBE's implementation of House Bill 149 which mandated the implementation of an on-line survey system for students, parents, and teachers opinions about teacher, administrators, and schools.
Surveys include school climate measures and teacher and leader effectiveness scales aligned with the USOE's Educator Effectiveness project
Since April 2014, over 15,000 individuals have been surveyed
Click to view infographic 
2012-2013 Report:
To download this report in PDF, please click here.
2013-2014 Report:
To download this report in PDF, please click here.
2014 – 2015 Report
To download this report in PDF, please click here.
INSPIRE Leadership
The INSPIRE Leadership Survey Suite is designed to assess graduates' experiences and perceptions, and provide a source of evidence on program outcomes. Provided by the University Council for Educational Administration and the Utah Education Policy Center, results from the INSPIRE Leadership Surveys can be used to identify areas for program and individual course improvement, compare programs regionally and nationally, and examine the relationship between program features, graduate outcomes, and school improvement work.
Contact us to learn more about this work.